XX° INTERNATIONAL SUMMER MUSIC CAMP for YOUNG MUSICIANS
-20TH EDITION-
NEWS BELOW
---
PLAY, LEARN AND HAVE FUN THROUGH MUSIC!
THE MUSIC CAMP
This year our International Summer Music Camp has many new opportunities to offer! From June 26th to July 3rd 2022, young musicians coming from different part of Italy and Europe will gather and play together under the guidance of two great conductors, Edoardo Piazzoli (ITA) and Rafael Garrigós (SPA), in order to prepare and perform concerts in many beautiful locations in the provinces of Como and Trento, Northern Italy. The Music Camp will take place both in Olgiate Comasco (CO) and Pieve di Bono (TN), a small village located in the splendid mountains of Trentino Alto Adige.
We are waiting for you!
OUR GOALS
Our Music Camp is addressed to young musicians who are willing to improve their musical and instrumental skills, by playing with directors and other peers coming from different music environments. Participants will perform in various concerts in beautiful locations of Northern Italy. In addition, other activities as trips and hikes in the mountains of Trentino will give participants the chance to visit and discover new territories as well as bonding and making friends with each other!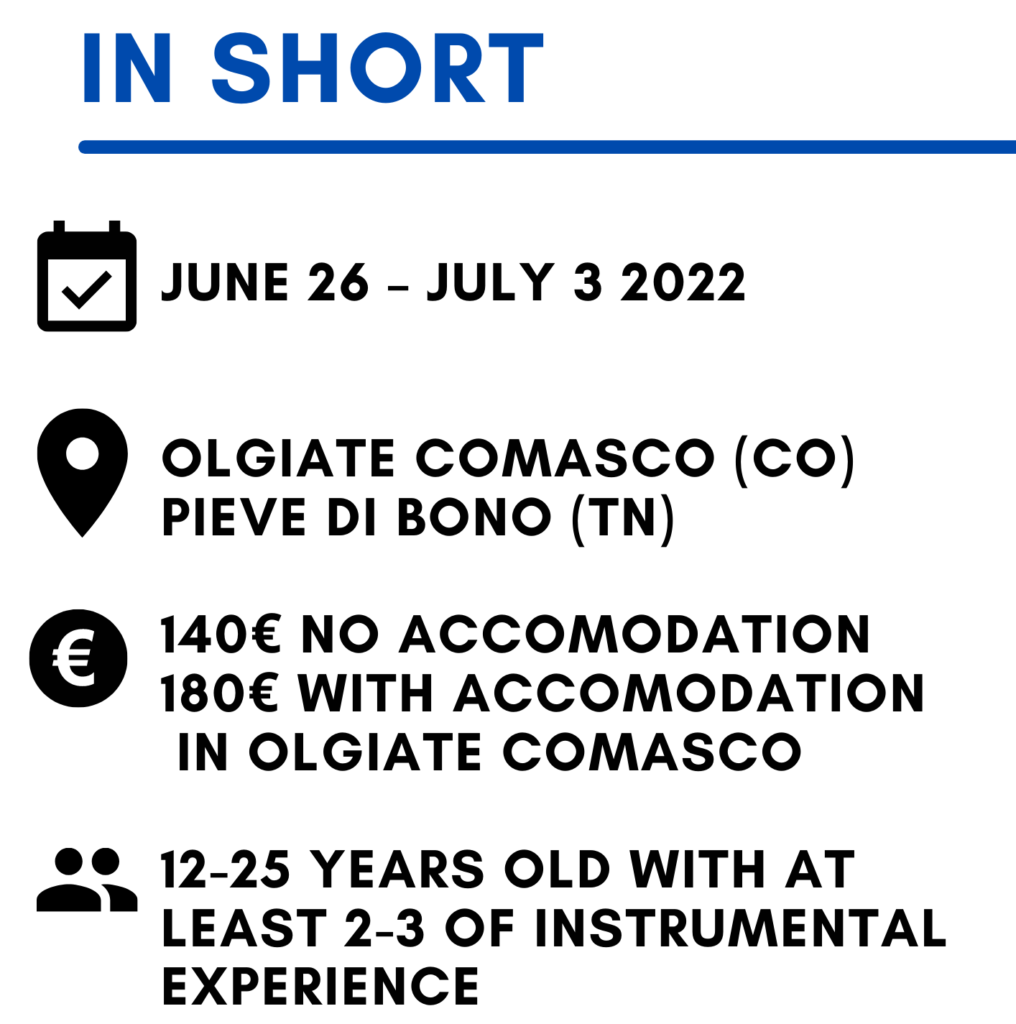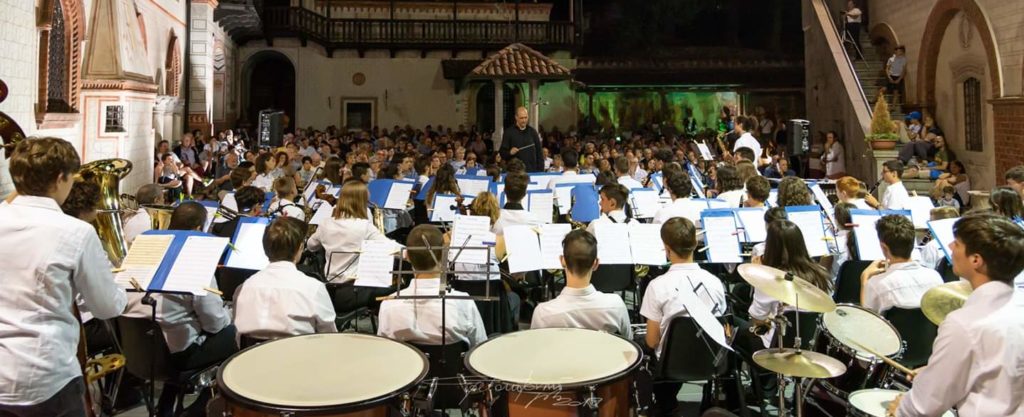 ---
FURTHER INFORMATION:
The participation fee amounts to 140€. The price includes:
Full-board package for two nights in Pieve di Bono (TN);
Meals in Olgiate Comasco;
Trips.
For those who come from abroad or far away, accommodation in families or other city infrastructures is available in Olgiate Comasco upon requests. In that case, the participation fee amounts to 180€ and includes breakfast and dinner as well. Accommodation will be assigned according to the distance of origin and until capacity is reached.
---
PROGRAMME
(approximative: still subjected to changes)
June 26th – June 30th: rehearsals in Olgiate Comasco and first concert on Thursday night.
July 1st – July 2nd: trip to Pieve di Bono (TN), visits and free time, concerts.
July 3rd: return to Olgiate Comasco and final concert.
---
APPLICATIONS
Applications are open until April 15th 2022. After the deadline, every participant will be confirmed of acceptance by e-mail, and further information about the programme and the payment will be provided. Please check the e-mail address that you provide in the application form. For further requests please contact info@corpomusicaleolgiatese.org